Myrtle A. Goettsch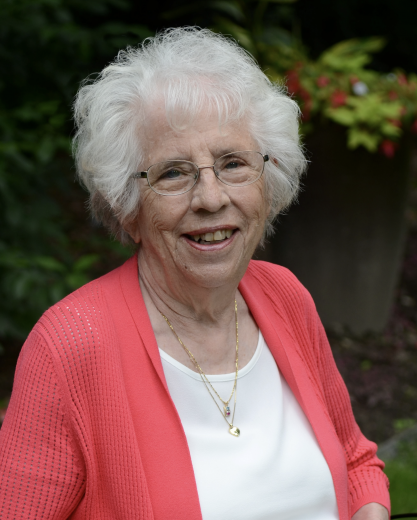 Myrtle A. Goettsch
1926 – 2023
HOLSTEIN - Myrtle A. Goettsch, 97, of Holstein, passed away Tuesday morning, Aug. 22, 2023, in the Highland Ridge Care Center at Williamsburg, Iowa.
Funeral services will be held on Saturday, Aug. 26, at 10:30 a.m. at the Boothby Funeral Home in Cherokee, Iowa. Pastor Bob Lewis will officiate. Burial will be in the Holstein Cemetery at Holstein. Visitation with the family present is on Saturday morning from 9:30 a.m. until service time at the Boothby Funeral Home in Cherokee, Iowa. Services will be livestreamed through the assistance of Fuller Digital Solutions on the Boothby Funeral Home website. Online condolences can be left at www.boothbyfuneral.com.
Myrtle was born on March 19, 1926, in Galva Township, Ida County, to Herma William and Emma Magdelina (Hensel) Dau. She attended rural schools in Galva and Douglas Townships and graduated from Holstein High School in 1944. She was employed at the Council Oak Store in Holstein following her graduation. On Feb. 27, 1945, she was married to Herbert E. Goettsch at Holstein, Iowa. To this union, two sons were born, Gerald H. and James D. They lived on a farm in Douglas Township until her husband retired from farming in 1982. They moved to Holstein near the golf course, and she and her husband both enjoyed the sport of golf.
Myrtle was a member of the St. Paul Lutheran Church and was a member of the ladies' church organization. She loved her home, especially the kitchen, cooking and baking, always trying new recipes. Her freezer was always full for family visits. She also liked traveling, playing cards, tennis, and physical fitness classes. She was a friend to many and her home was always open to her family and friends.
She was preceded in death by her parents, her husband Herbert, two sons Dr. Gerald H. Goettsch and Dr. James D. Goettsch, brothers, Clarence (Geri Susie) Dau, Vernon (Deloris) Dau, Leslie (LuEtta) Dau, niece Lori Hahn Sokolowski, and great nephew Aaron Sokolowski.
She is survived by five grandchildren: Barry (Dr. Eva) Goettsch of Marengo, Iowa; Nichelle (Elliott) Schiffman of Glenview, Illinois; Brandi (Matthew) Pavone of Boardman, Ohio; Ryan Goettsch (fiancé Rachel) of Boardman, Ohio; David Goettsch (fiancé Lauren) of Portland, Oregon; 7 great grandchildren: Bennett and Abigail Goettsch, Zachary and Madelyn Schiffman, Jemma, Rylie and R.J. Pavone; daughters-in-law: Roletta Goettsch of Bettendorf, Iowa; Pati Goettsch of Boardman, Ohio; sister: Mary (Robert) Hahn of Cherokee, Iowa; also many nieces and nephews.
Services: Aug. 26, Boothby Funeral Home, Cherokee
Burial: Holstein Cemetery, Holstein
Boothby Funeral Home • 712-225-3496 • Cherokee
Category:
The Ida County Courier
Ida County Courier
214 Main Street
PO Box 249
Ida Grove, Iowa 51445
Phone:  712-364-3131
Fax:  1-800-340-0805
Mid-America Publishing
This newspaper is part of the Mid-America Publishing Family. Please visit www.midampublishing.com for more information.