Rose Nielsen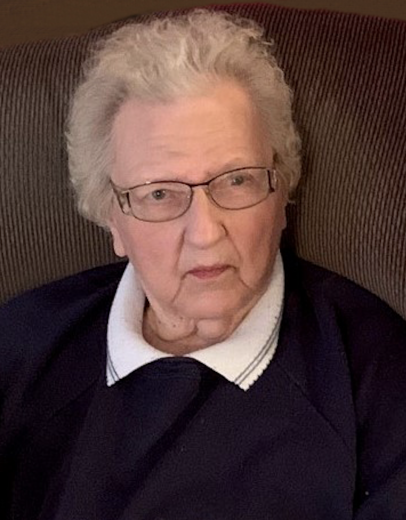 Rose Nielsen
1933 – 2023
IDA GROVE - Rose Nielsen, 90 of Ida Grove, Iowa, passed away on Saturday, June 3, 2023, at the Horn Memorial Hospital of Ida Grove, Iowa.
A Funeral Service will be held at 10:30 a.m., Friday, June 9, 2023, at the St. Paul Lutheran Church of Ida Grove, Iowa. Rev. Neil Wehmas will officiate. Committal Services will be held at a later date.
A Visitation will be held from 5-7 p.m., on Thursday, June 8, 2023, at the St. Paul Lutheran Church of Ida Grove, Iowa.
The Christensen-Van Houten Funeral Home of Ida Grove, Iowa, is in charge of the funeral arrangements. Condolences may be sent online at www.christensenvanhouten.com.
Rose Nielsen was born on May 25, 1933, on a farm near Schleswig, Iowa, to Fred and Rosie (Trinkelbach) Kollbaum. She became the 14th child in a large and loving family. Rose grew up on the farm near Schleswig and received her education in the schools near her home.
In 1948, Rose met the love of her life, Melvin Nielsen. They were married on Oct. 8, 1950, and were blessed to celebrate 72 years of marriage together. To this union three children were born: Connie, Craig, and Mark.
Rose had several jobs over the years, and she enjoyed them all, but the most memorable was being the "chief" cook at Mel's Diner where she fed many of the area locals. The hours were long, but the stories and laughter were many.
When Rose finally retired, she kept busy in the kitchen. She loved sharing special baked goods with many of her friends. Christmas was her favorite time of the year, and you would find her in her kitchen preparing dozens of cookies to be shared. She also enjoyed her occasional visit to the casino with her family, hoping for good luck.
Left to cherish her memory include her loving husband of 72 years, Melvin Nielsen of Ida Grove, Iowa; daughter Connie (Richard) Jordan and son Mark (Lanette) Nielsen both of Ida Grove, Iowa; and sister Dena Nemitz of Denison, Iowa. She was also blessed with many grandchildren as well as nieces and nephews.
Rose was preceded in death by her parents Fred and Rosie Kollbaum; infant son Craig; siblings Marie, Hilda, Fred Jr., Ray, Irene, Viola, Alvin, Mable, John, Esther, Marvin "Dicky," and Margaret; great-grandson Elliot Jordan; and great-great-grandson Jordan Reed.
Services: June 9, St. Paul Lutheran Church, Ida Grove
Burial: At a later date
Christensen-Van Houten Funeral Home • Ida Grove • 712-364-2727
Category:
The Ida County Courier
Ida County Courier
214 Main Street
PO Box 249
Ida Grove, Iowa 51445
Phone:  712-364-3131
Fax:  1-800-340-0805
Mid-America Publishing
This newspaper is part of the Mid-America Publishing Family. Please visit www.midampublishing.com for more information.